SESAME STREET
THE RECYCABLES - 90 second segment for season 45
A BACON FACTORY FILMS PRODUCTION
DIRECTED BY DEAN GIBSON
PRODUCED BY HELEN MORRISON
"Broadcast in 2015 internationally in over 200 countries "The Recyclables" for SESAME STREET was an amazing process." says Producer Helen Morrison. "It's a household name and being part of it was brilliant."
The 90-second film called "The Recyclables", is all about recycling and how to re-use common household items, like buttons, toilet rolls and straws.
It was filmed in the Brisbane bayside suburb of Sandgate, featuring local 4-year-olds at the Sandgate Kindergarten, also starring Indigenous talent Dean Brady.
Director Dean Gibson knew 10-year-old Brady was the talent for the job.
"I had a concept about a band singing to young kids about recycling and when I came across Dean Brady, I knew he'd be a great choice," he says.
"His experience with being a finalist on Australia's Got Talent, and his Indigenous background made him a perfect fit."
The segment has been months in the making, from workshopping the concept, to having a local musician write the catchy tune, recording with Dean Brady in his hometown of Cairns, and arranging some of Brisbane's best crew to take part in the shoot.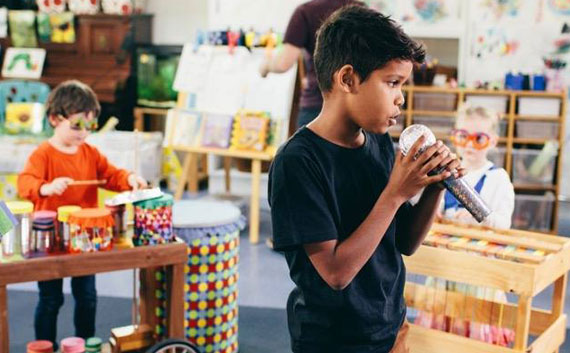 THE RECYCLABLES - PHOTO COURTESY OF BACON FACTORY FILMS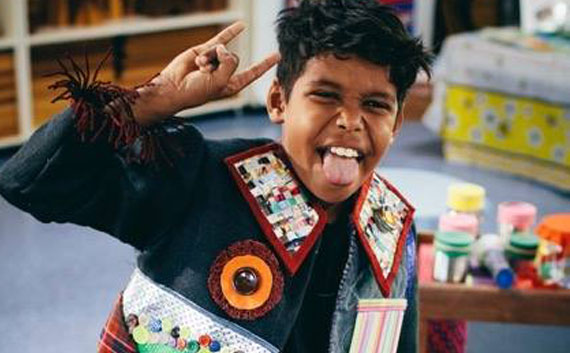 THE RECYCLABLES - PHOTO COURTESY OF BACON FACTORY FILMS